Client
Tilney, Smith & Williamson: Bestinvest
PROJECT DURATION
5 months
Wireframing, Prototyping, Strategy, Design Direction
TEAM
Cory Cruser, Rupesh Patel, Vimmi Sveinsson, Katie White
Hi Mum! Said Dad
Context
Bestinvest is an investment platform based in London established in 1986. It provides execution-only investment services predominantly to private investors, as well as financial planning, investment management, and advisory services as part of the Tilney, Smith & Williamson Group. Lippincott was tasked to innovate an intent of a digital experience within a highly competitive market to appeal to a broader customer base ranging in investment experience. 
CHALLENGE
5.2 million Britons would gladly pay for help with their long-term finances but do not know where to start.
Wealth management can feel like it's for wealthy people and investments feel like a gamble. People inherently view their current selves as having too many needs for them to worry about their far-off future selves. 
Dashboard overview
Visualize your wealth in the context of your goals and everything you want to achieve. The money horizon is a consistent tool that maps the correlation between your goals and your wealth. 
With fast-forwarding and simulating actions, you can see where your money is today, where it has been, and where it will contribute to.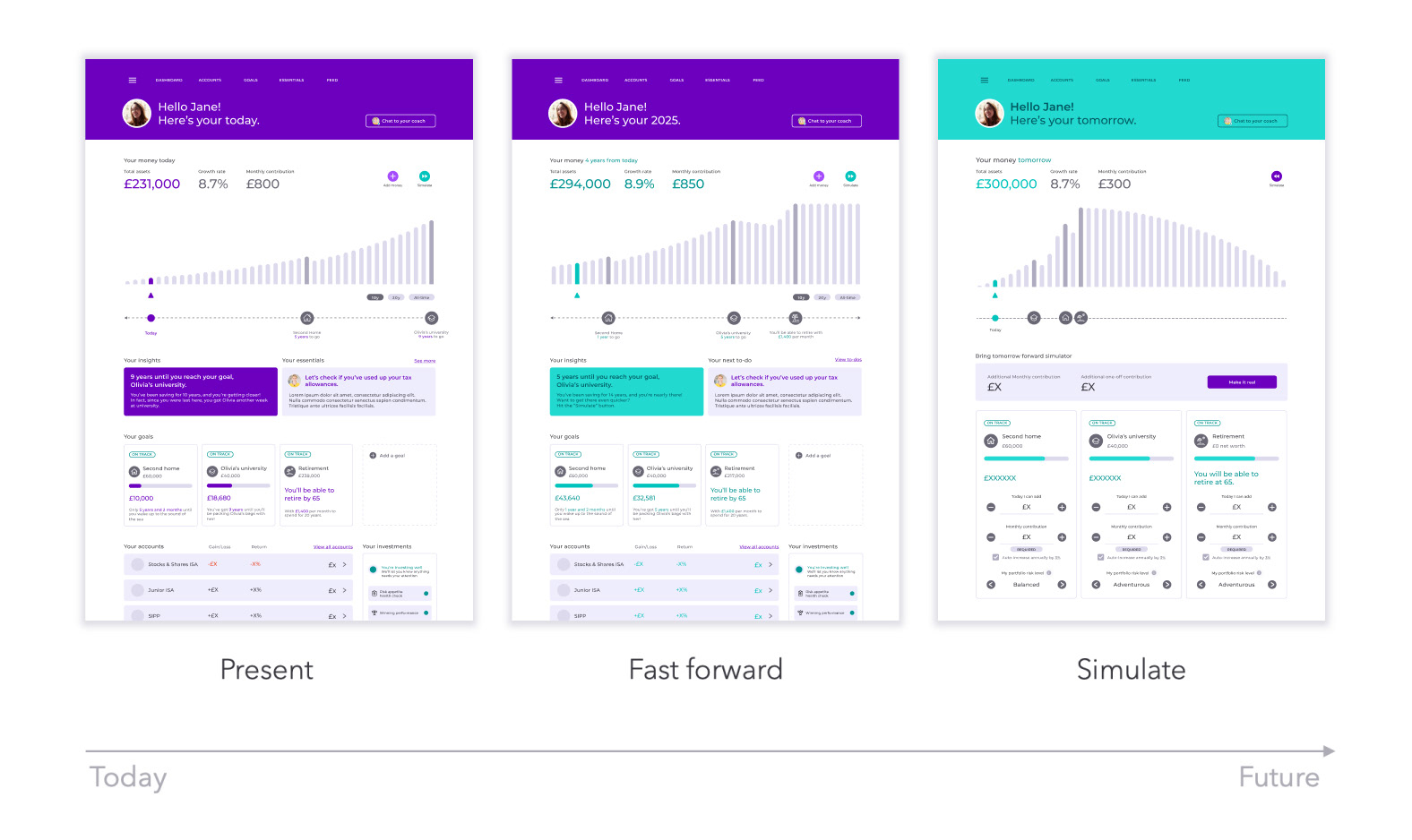 Onboarding a standard goal
Keep a list of common goals and prioritizing what is important to you with a target date/amount in mind. Smart goal-setting feature helps build a transparent financial picture.
Users could visualize their money horizon from a time perspective, setting up regular contributions to gauge their progress and whether they are on/off track.
Setting a retirement goal
Retirement is probably the longest-term goal users will ever set, giving a user the capacity to take on more risk. With that in mind, calculating risk appetite is designed to be approachable and intuitive. 
We want to humanize retirement by understanding your lifestyle and focusing on age, not a deadline. To provide a sense of achievement, the retirement goal is visually communicated as the peak of the horizon.
Your essentials: To-do's and tiles
Your central support hub containing coach contact, a curated list of best actions, an overview of protections, insurances, and tax allowance. 
With your human coach accessible at any moment, each task gives you the ability to make progress and increase financial confidence and competence in 5 minutes or less.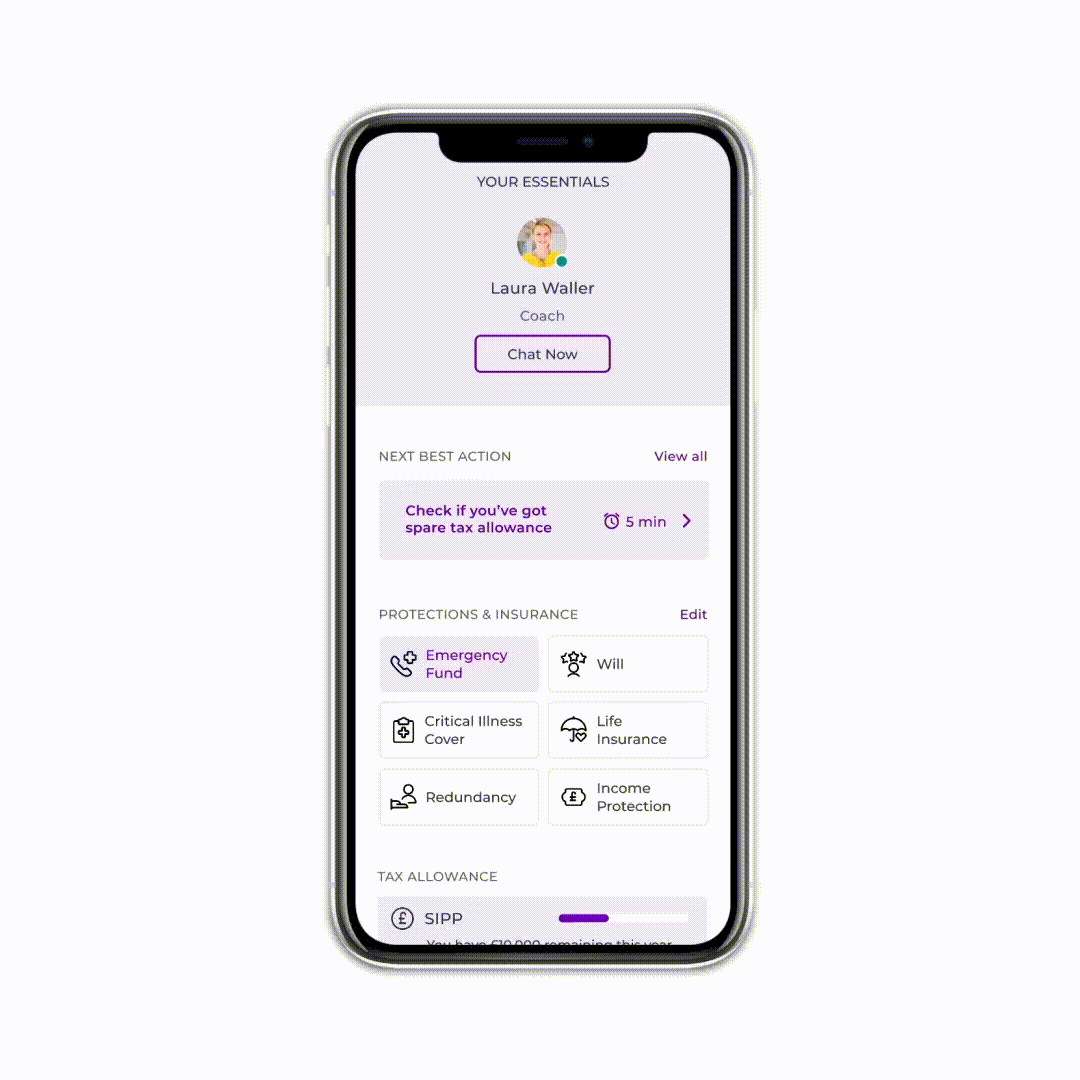 Human coach on hand
The coach avatar is designed to be accessible throughout the experience. They can provide support when necessary, giving the user the autonomy to decide in the process.
Even when a user's coach is not online, they can leave a message, book a time for a call, or speak to other coaches and advisers who will be available to assist.
HUMAN INSIGHT
People won't make time for tomorrow's money until they know how to confidently tell you where today's money is going.
Hybrid in response to an underserved market
Bring to life the financial benefits of investing with TS&W
in a self-directed digital solution with the ability to access human guidance.
Create an entry point to TS&W that provides better financial outcomes for investors and the next-generation investor.
A digital-hybrid future-money solution that helps people "Bring Tomorrow Forward" by:
1. Visualizing tomorrow's goals so they relate to today's activities
2. Turning complex financial decisions into bite-sized actions with rewards
3. Having a person ready to help confidently turn aspirational goals into actions
We need to make tomorrow mean something today and empower people with confidence and competence to make better tomorrow's decisions, today.
Illustrating design principles across visual touchpoints
Beyond experience design innovation, we provided high-level guidance to picture the visual storytelling of the new Bestinvest brand. While there are some important principles that need to be followed to ensure consistency and protection of our intellectual property, the primary purpose of this document is to illustrate intent and inspire creativity in using the available artwork and visual system.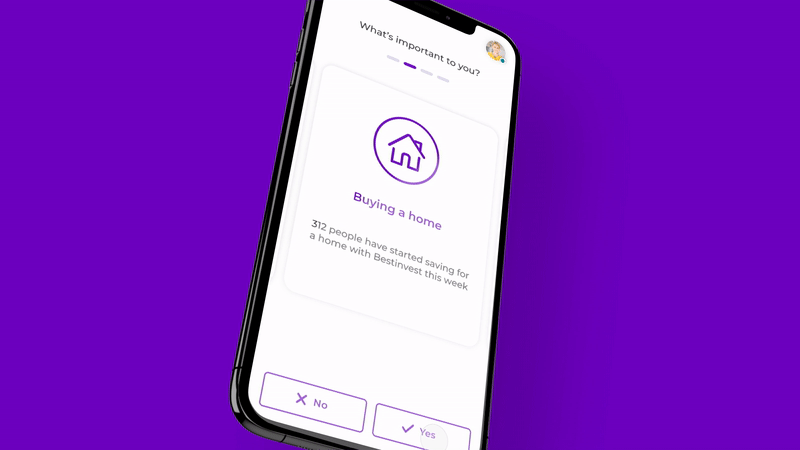 A new brand identity for growth in "bringing tomorrow forward"
The capital B letterform is illustrated with two positive-facing rounded triangles to form an intersection of Bestinvest and their client moving forwards on a financial journey.
Color balance to represent today and tomorrow.
White is a key color to ensure materials are clean, simple and easy to read.
Purple is used as a focus color to highlight, lead and aid navigation through our visuals. It's always purposeful rather than decorative. 
Teal is a secondary color to communicate a future state.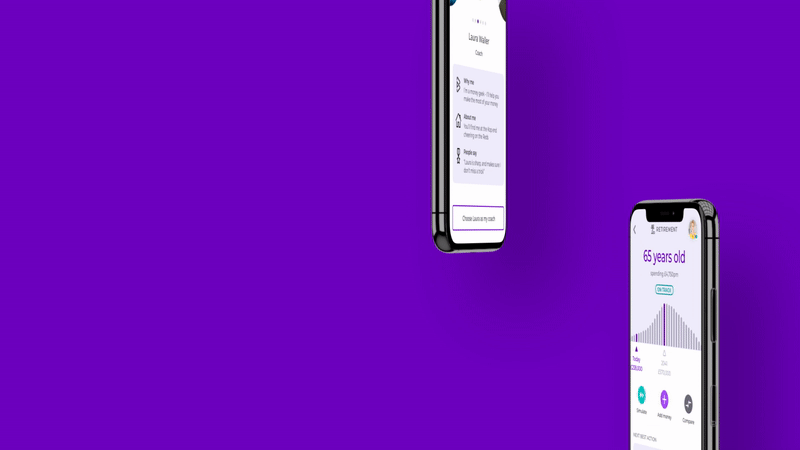 Bestinvest launch

We partnered with Hi Mum! Said Dad to transfer our design intent and strategy to life. Bestinvest is launched and is available now in app stores.