To make a publication about a topic of your choice with a minimum of 24 spreads (48 pages).
This book is about my experiences around the world, and the specific places I have visited which hold great sentimental value to my personal identity today. As I immersed myself in global culture, be it in the United States, Canada, or the United Kingdom, I somehow felt a cultural distancing from my hometown, Hong Kong.
The key question the publication is answering: 
What is it like to grow up in a culture with a disparity of international influences? 
What does it feel like to have an "in-between" cultural identity?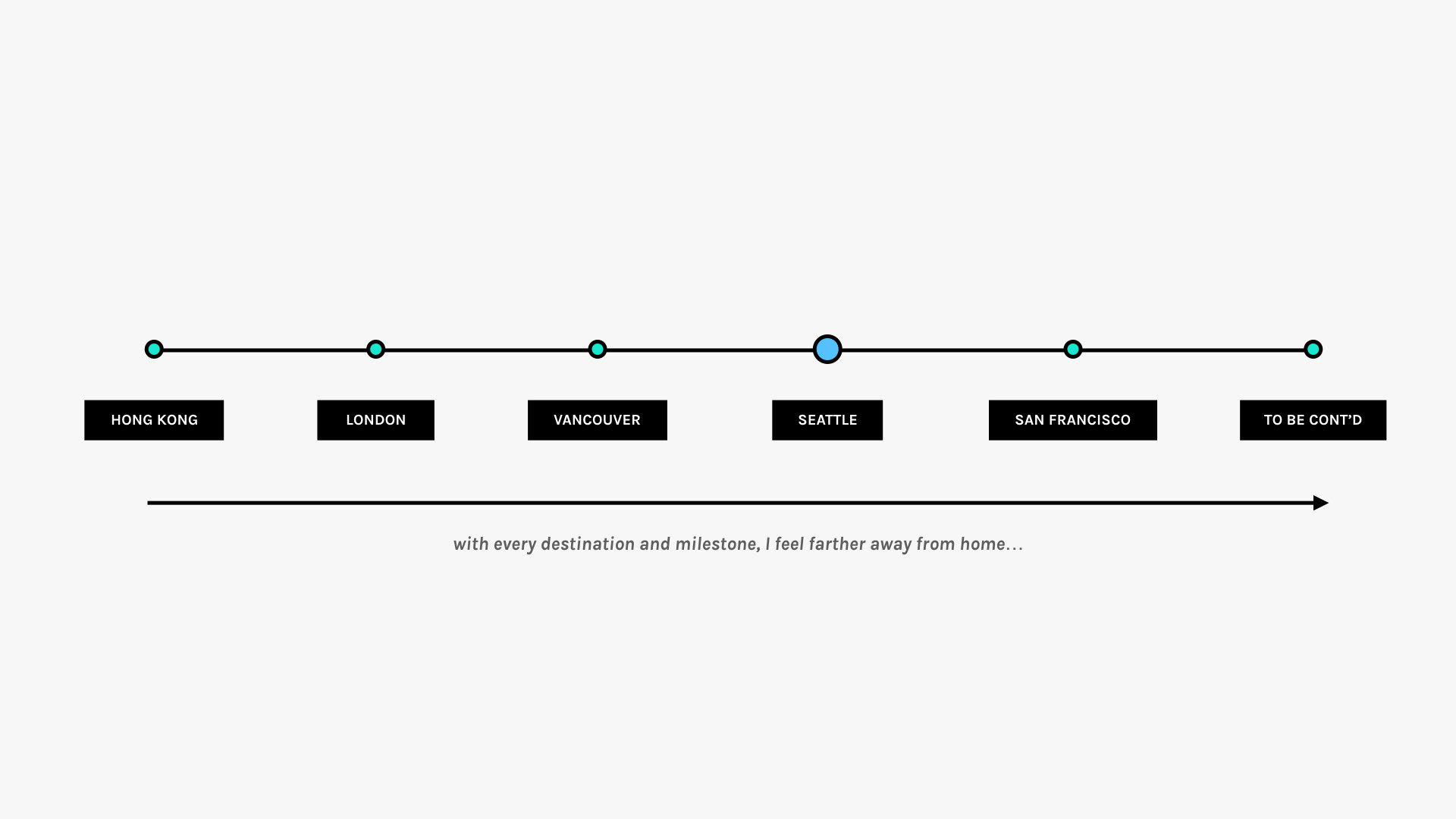 Cultural disparity and worldly perspectives.
Although I grew up in Hong Kong for 18 years of my life, I always felt distant from the local culture. Having traveled to different parts of the world, I had the privilege to experience diverse cultures, be it for visiting distant family members or leisure. Over the years, I began to drift away from my local identity. I attended an international school, lacked proficiency in my native language, pursued a career path in the creative arts, experiencing different cultures of the world. These locations have defined my idea of "identity" & "family" by people and memories.  
The Locations
Each location is represented with my psycho-geographical mapping of districts that made an impact on my memory, using topographic elements to measure my sentiment. In addition, these locations and districts are defined in a personal dictionary format. These maps are accompanied with my collection of photographs and anecdotes on each spread to visualize my experience. 
The book can be read as an anecdote per spread or chronologically from the beginning to end, illustrating the metaphor of my journey of traveling away from home.
Psycho-geography is the study about the influence of a geographical environment on an individual's mind or behavior. 
It is a map that has no logical direction. It is instead an abstract representation of the locations that impacted my identity and shaped my worldview.
The maps are designed based on location-specific signage that I illustrated to add a layer of dimension of the environment for my readers to visualize. The perspective lines are kept to convey a process in construction of my memories.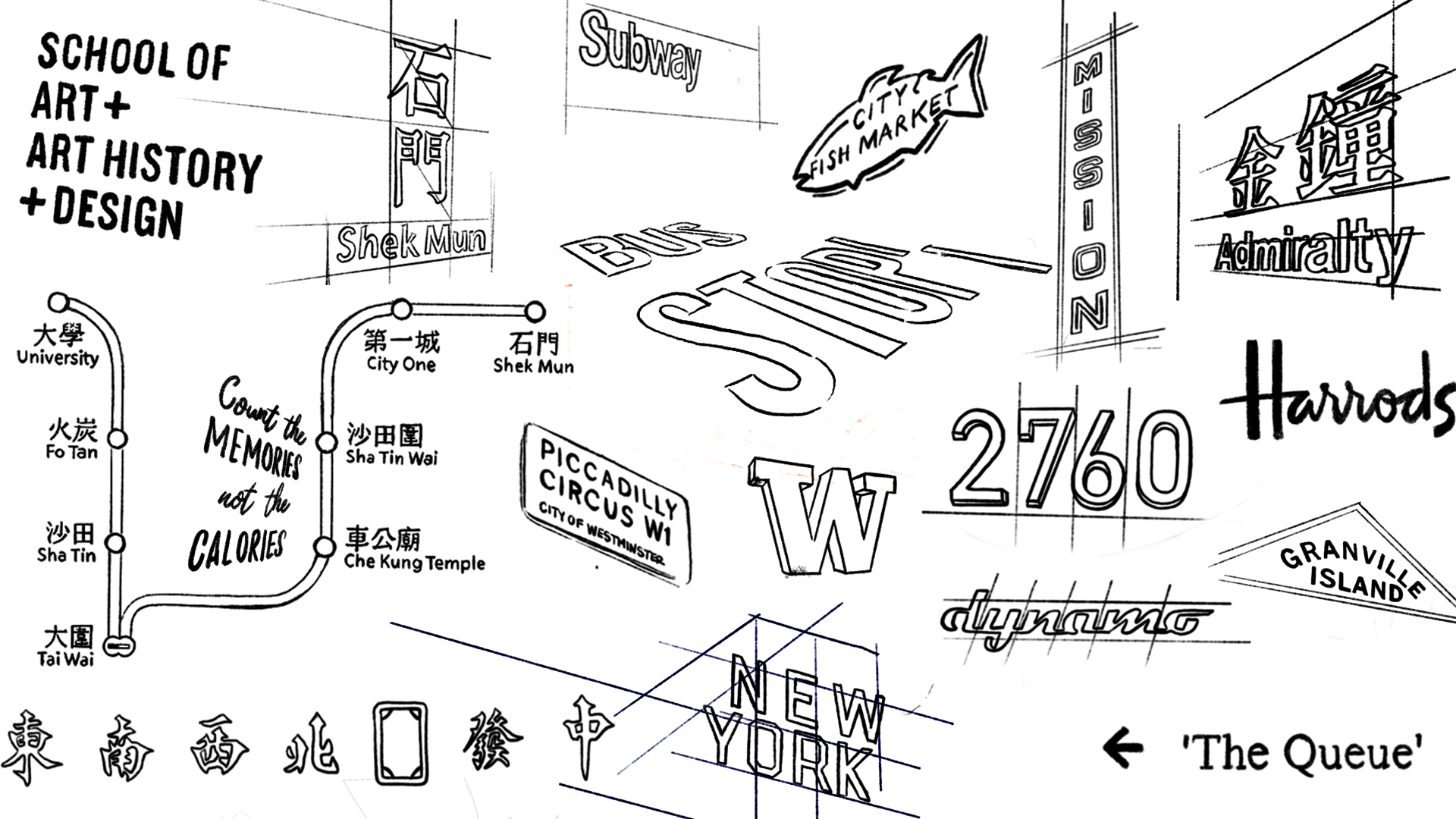 Topography is the degree of influence each location has on my emotions and memory — the arrangement of natural and artificial emotions inflicted by each particular geographical location.
What Hong Kong looks like to me
The locations are accompanied by an introductory psycho-geography map. It is layered with photography and hand-drawn signage and topography elements to add depth to the space. With Hong Kong being my original home, I wanted to illustrate the breadth of districts that I grew up in, along with a combination of family photographs and architectural landscapes.
The photographs are documented from my personal collection and the signage used are unique to the associated districts. The reader begins with a book that is seemingly blank and white from its cover, and is gradually introduced to an array of colors associated with each location. The color representing each location is selected based on my first impression and the color I see the most during my time there.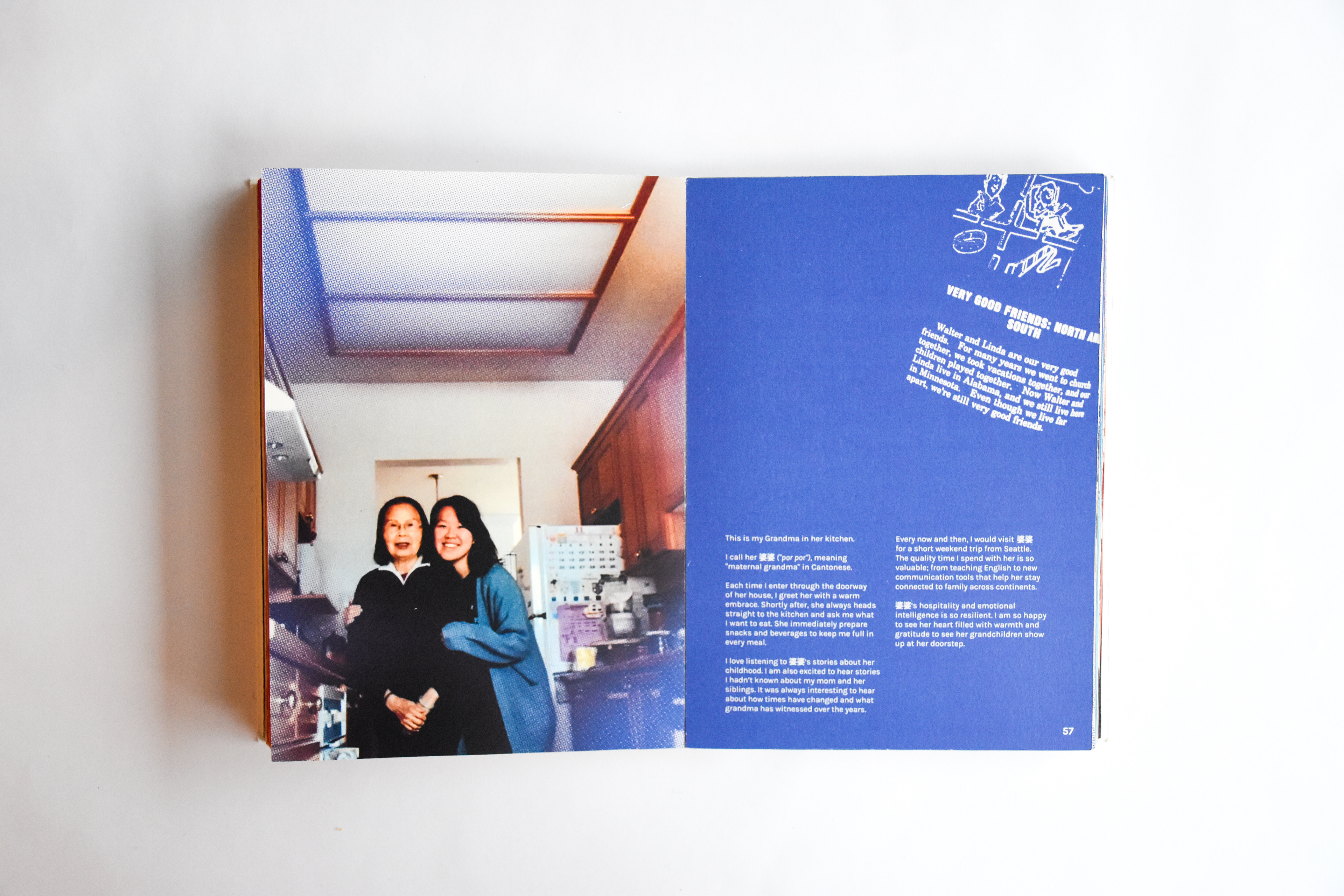 A continuous timeline within memory
An overview of the psycho-geography maps in Hong Kong, London, New York, Vancouver, Seattle, and San Francisco. The map can be taken out and opened to view it as a whole timeline.
Each location holds a dear place in my heart, exposing me to different realms of perspectives and cultures.
With each milestone and destination traveled, I somehow feel farther away from home... The feeling of a constant state of "in-between" — a disparity of cultural influences.
I feel as if I lost touch with my identity, yet I'm opening my world and perspective.
CONTEXT 
egg-white cover weight paper
perfect-bound with gatefolds
TOOLS  
Procreate, Sketching, Photoshop, InDesign