An introduction to food rescue
Food Rescue includes a multitude of positive environmental, financial, and social impacts. Reducing food waste keeps food out of landfills to minimize toxic emissions in our environment. It is economically beneficial at a small scale by lowering household food bills and on a large scale by reducing disposal costs for suppliers. Reducing food waste is also socially important to eliminate hunger in our communities. 
However, food rescue is a complex logistical system that involves many different entities and organizations. Sufficient planning and reliable communication play a significant role in running the programs and transporting rescue food. This project aims to showcase the key players within the system and present challenges in the current food rescue system from a realistic perspective.    
Representing the key players in the network.
Narrowing down our scope, we selected Ballard Food Bank to base our case study on since it contained interesting connections with various retailers, organizations, and recipients. 
We created character illustrations for each key player to easily map out these entities within the large system:
Storyboarding the challenges in the food rescue network
To illustrate the challenges in food rescue, we storyboarded a visual case study using the Ballard Food Bank network as a prime example in this scenario, partnering with Whole Food Market as the donor and Solid Ground as transport.
Ballard food bank is Seattle's largest food rescue program that serves 7 zip codes: 
98103, 98107, 98109, 98117, 98177, 98119, 98199
Food Bank coordinating with 27 partners
The interviews with food banks conducted by Urban Freight Lab indicate that communication efficiency directly impacts the quality of donations. 
Ineffective communication can result in a lack of food donation diversity and unwanted donations. Since there is little to no communication between the food banks and donors, the food banks suffer an overflow of either the same food category or unusable food.
The supplier's storage problem
Many restaurants and food entities are willing but hesitant to donate to food banks mainly due to storage and labor. If the food rescue program initiative is not integrated into the entities without prior employee training, they might face friction in the system. 
With a lack of a plan to incorporate food rescue in the program while building the infrastructure, the entities could face the problem of limited storage space in the future.
The long journey to/from support
Food Lifeline and North West Harvest are two major non-profit federal organizations that are supporting the food banks in the PNW area. They receive and redistribute food donations from different entities to food banks based on their needs. 
Since Ballard Food Bank is far away from these key players, it limits food deliveries from the non-profit federal food organization, as well as its ability to utilize the organization's other supportive programs.
Experimenting with infographic visualization
We explored different visual styles and ways to organize information to deliver the best infographic solution for food rescue network, thinking of ways to visualize the distances and processes between the entities to illustrate the complexity in food rescue transport. We went through rounds of iterations to refine and balance the detail and information included to create a compelling case study narrative.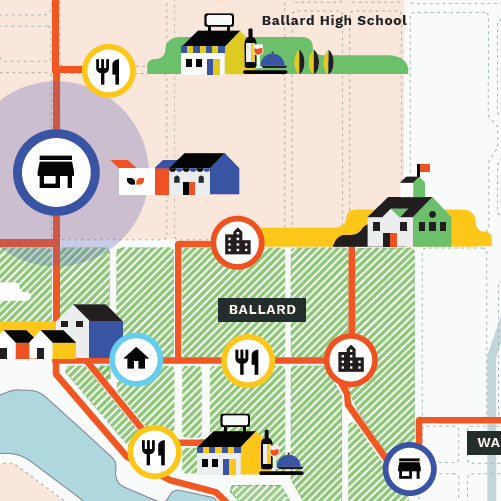 Visualizing the network
Starting with the basics of understanding the importance of food rescue, we wanted to make the infographic easy to understand for the general public with other relevant information to create a compelling narrative; including the impacts of food rescue shown through statistics, key players in the network and their interactions with one another, and the mapping of these entities.