The Hong Kong Student Association at the University of Washington is a cultural club with a mission to promote Hong Kong culture and provide a space of community for Cantonese students within UW. We host our annual Little Hong Kong big event to celebrate the new year by showcasing Hong Kong culture through a festival of food, games, and prizes. 
Designing the Logo & Branding Identity for Little Hong Kong
Little Hong Kong is one of our major events that demands a high quality design to entice and draw the attention of a wider audience ranging from the UW community to the greater Seattle area. I had previously designed the poster for last year's event as well. This year, however, I wanted to produce a higher quality design that creatively brands and promotes our event into a unifying collective theme of representing Hong Kong as a little world.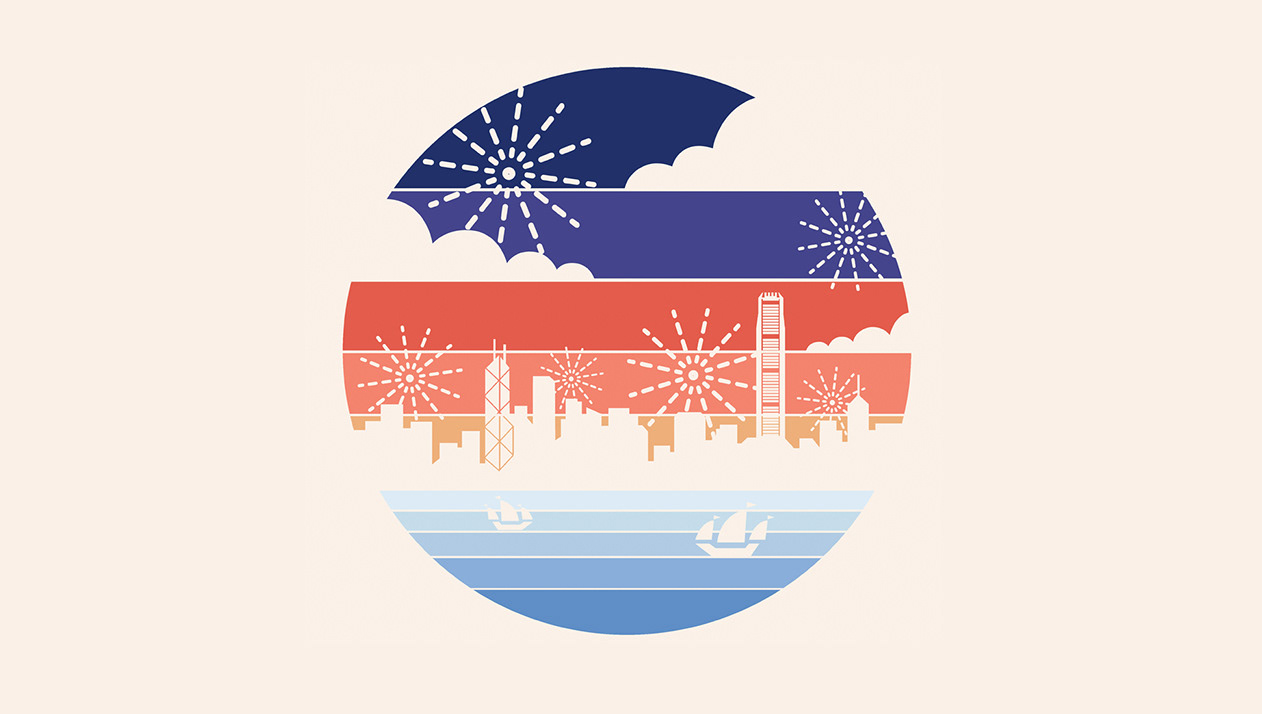 My Concept — "Little" Hong Kong 
While brainstorming for this year's promotional poster, I drew a foundational inspiration on the idea of representing a "little world" of Hong Kong. Differing from the typical identity of the well-known Hong Kong harbor skyline, I wanted to create a different perspective of Hong Kong by illustrating the world in an isometric manner. This stemmed from one of my favorite game concepts: Monument Valley - isometric illustrations of geometric & architectural fantasies.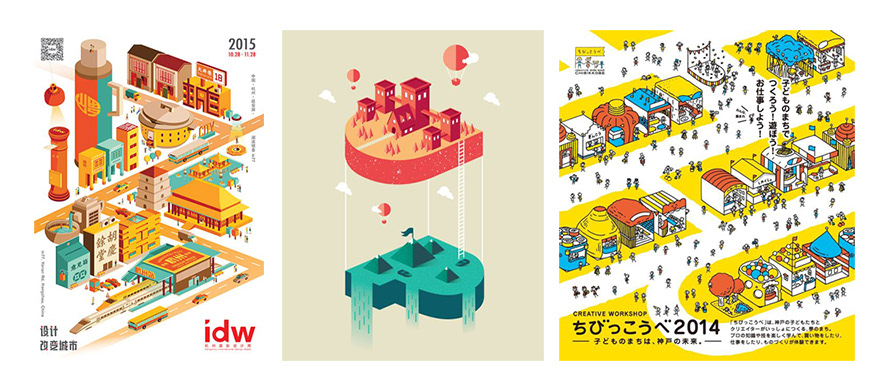 Illustrating the isometric world.
Drawing inspiration from Monument Valley's isometric world, I decided to implement this theme throughout the composition, maintaining it to be relatively minimalistic with a play of negative space with the letters "H" & "K". I isometrically illustrated these block letters, and began building my world of "little Hong Kong" on top of the surface of the letters with familiar landscape, architecture, and transportation icons. As a result, the little world was completed and illustrated as a small preview of Hong Kong as a small fantasy land.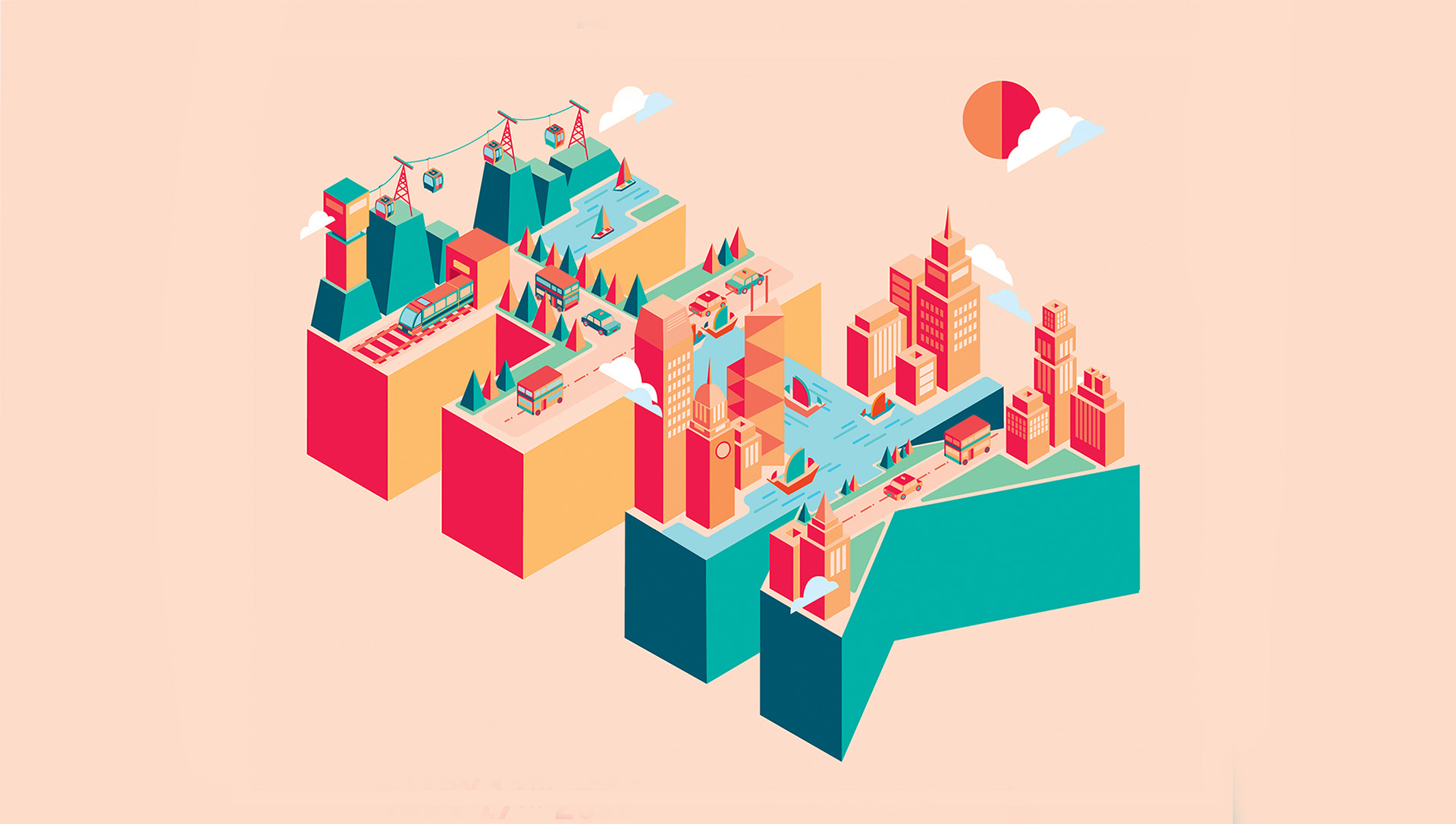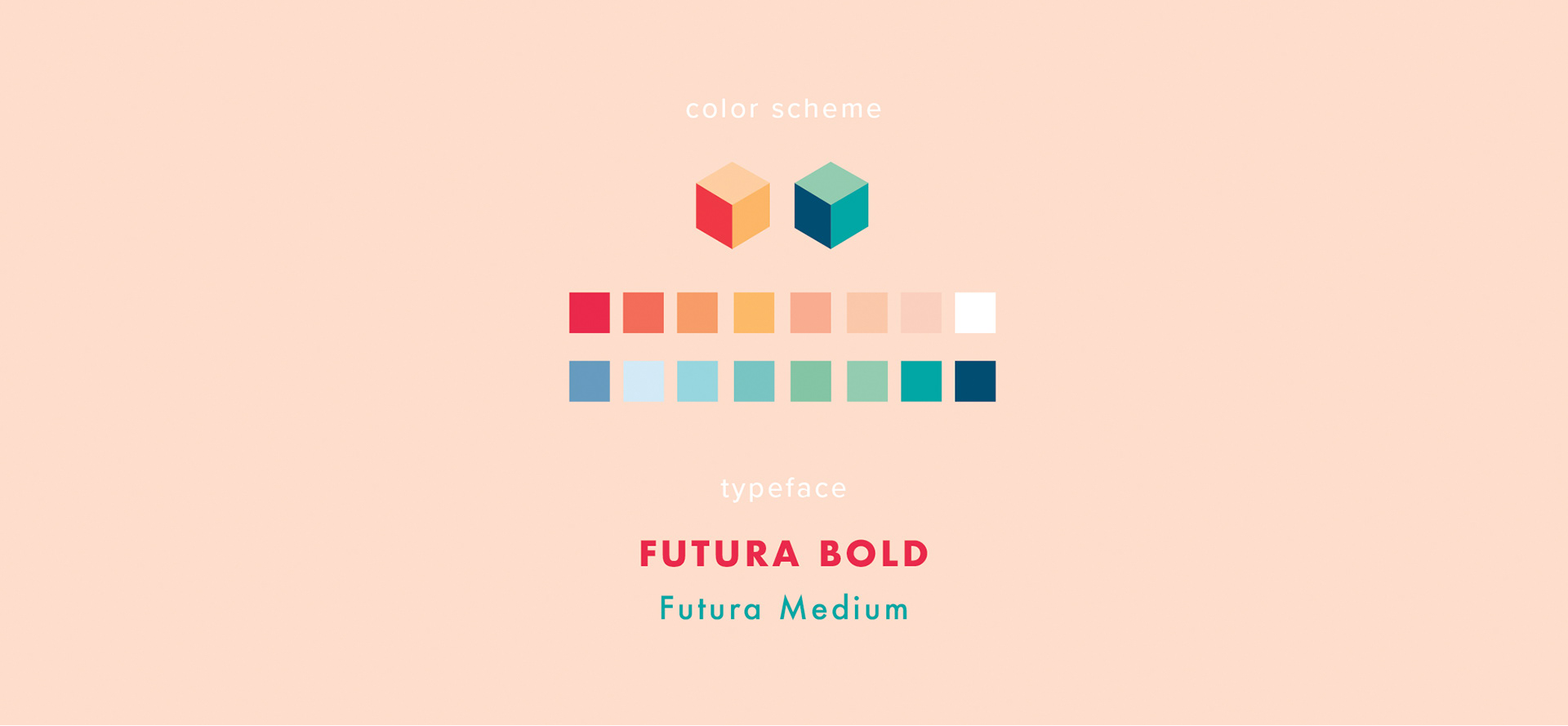 The districts of Hong Kong.
The illustration composition is inspired the multiple districts of Hong Kong. Growing up in Hong Kong, I was familiar with the New Territories residential neighborhoods of Shatin, which I thought was completely opposite from the bustling city side of Hong Kong Island. I wanted to communicate the opposite ends of the spectrum by drawing the harbor as the bridge between the two sides of Hong Kong. Some unique district attractions and transportation are drawn including cable cars, ferry boats, MTR train, taxis, KMB buses + IFC building, clock tower, etc.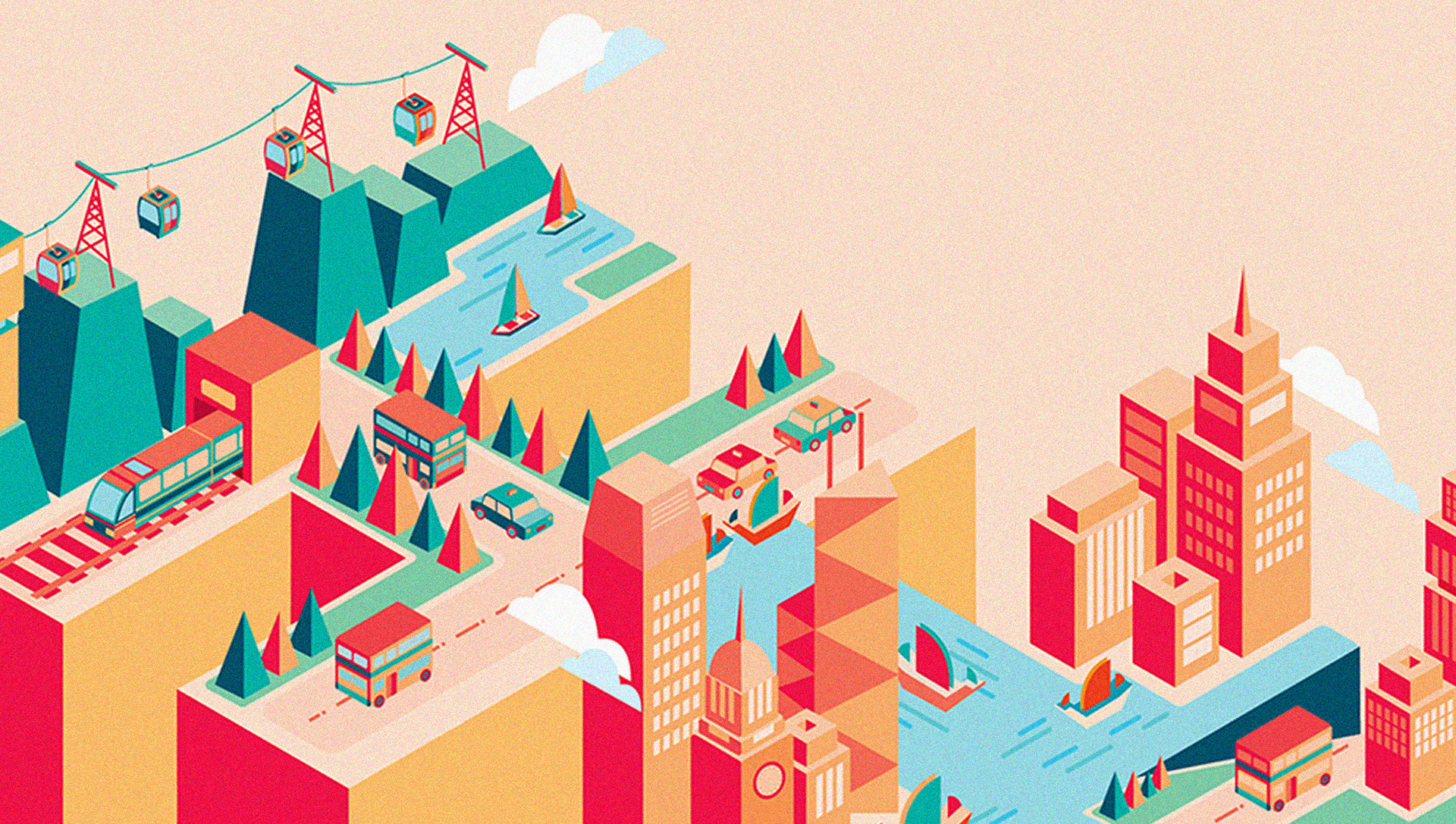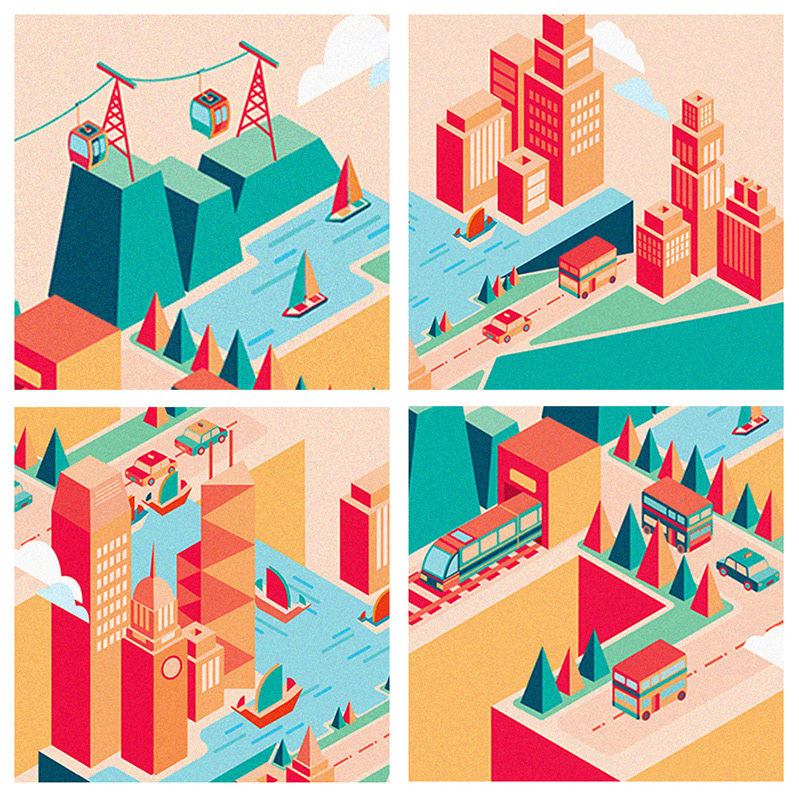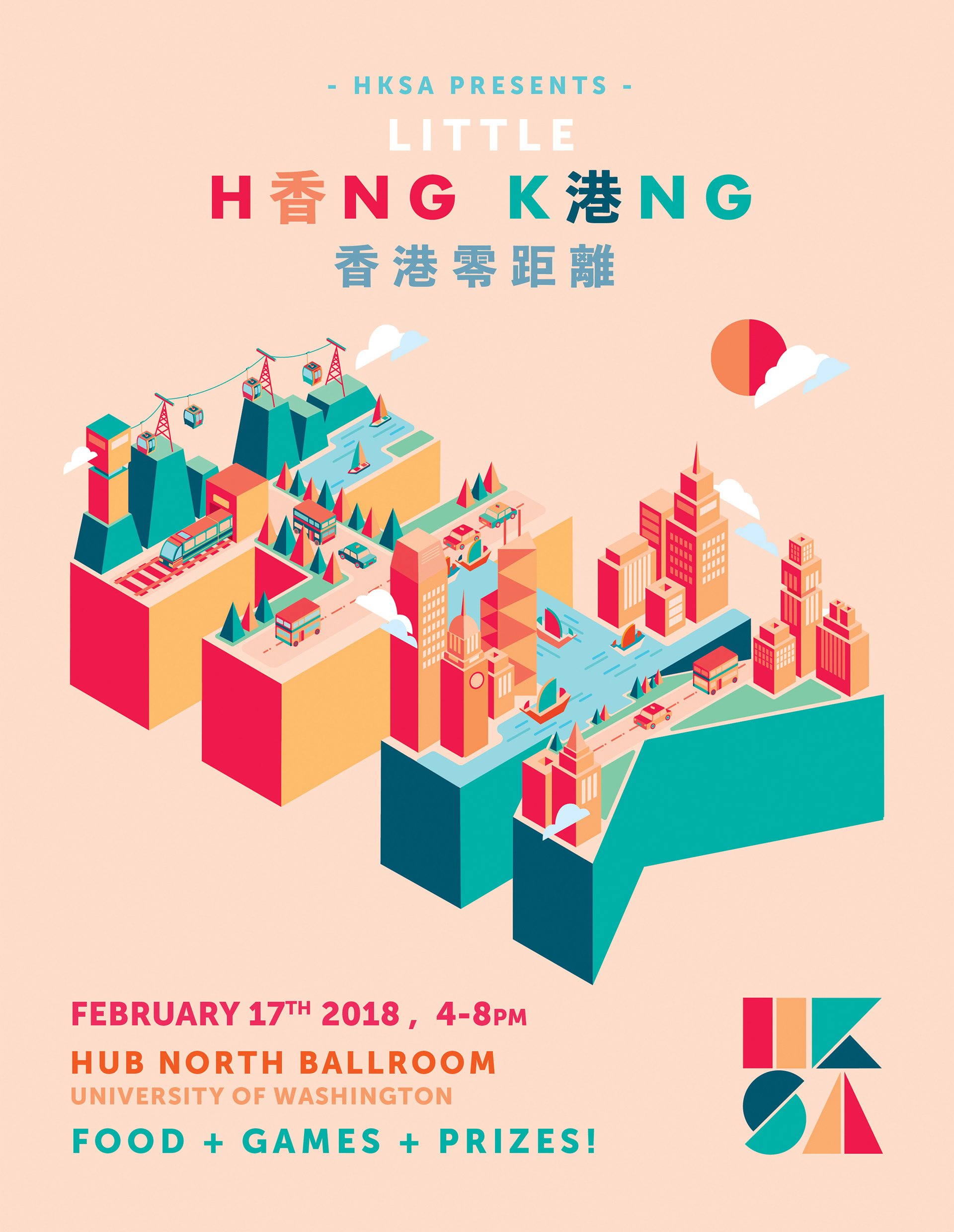 Little Hong Kong 2018 — Promotional Video 
In addition, I also took part in directing and filming the promotional video of Little Hong Kong 2018. The concept of the promotional video is to correlate with the aerial design theme of the graphic poster, in which drone footage of Hong Kong was utilized to represent the overview of the city as a little world. Editing involved fast shutter edits and impact flashes to compliment the electronic pop instrumental paired with the video footage, providing speed in motion and transition. The combination of macro/eye-level and drone shots add an interesting contrast of what it is like to experience Hong Kong culture amongst the densely populated, bustling city.
Directed by Ariel Chan & Wilson Tang
Edited by Wilson Tang
Drone shots filmed by Ted Chan
Macro shots filmed by Ariel Chan
Little Hong Kong 2018 — custom profile gifs
Custom profile pictures were designed to further promote our event via social media platform, mainly on individual officer's profile page. The design is created in a form of a gif (frame by frame animation) to add interest and catch the audience's attention while browsing on newsfeed. The design alternates in pop colors of the original color scheme, and each individual poses in the frame with custom photo booth props for decoration.